10 Design Trends for 2018
Amy Krane | December 18, 2017
It's that time again to take stock of what's happening in the world of interior design and see what's on the horizon in terms of design trends. Some trends are just starting to poke their heads above the fray while others have been gaining popularity since the beginning of 2017 and even before.
Terracotta Tiles
I know what you're thinking. "Not those dated floor tiles from the 70's!" Nope, not those. Check out this gorgeous, original use of hex shaped terra-cotta tiles by design firm General Assembly. The photo below highlights no less than 3 trends for 2018. One is the choice of terracotta, two is mixing different tile styles together in a very unique and creative way. Lastly, the choice of a hex shape which is a really strong trend right now.
The Bath Tub within the Shower
The bath tub inside the shower has really been building momentum. It's a very efficient use of space as long as the bathroom can accommodate this layout and it enhances the spa-like atmosphere that so many homeowners aspire to in their bathrooms. Clad in the same materials, the two seamlessly dwell together in the same space.
Sheepskin Rugs
I know. They've been a standard in Scandinavian and Bohemenian style homes for some time. But their popularity and use seems to know no bounds. You're seeing furniture upholstered in it. Sheepskins are used as throws as often as rugs. Whether in their natural colors or dyed, lambskin pillows are everywhere in home design.  Plush is in and these furry items are at the forefront of the movement.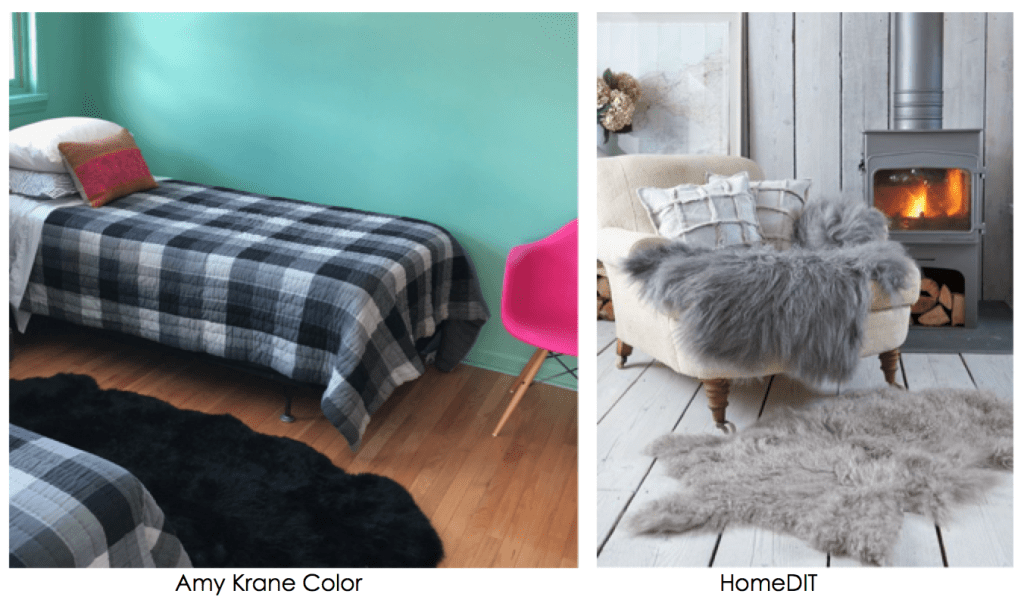 Yellow Accents
The brightest of all the hues yellow is usually best used in moderation. That is if you're going for a saturated version of the color. I'm seeing fantastic yellow tiled walls and backsplashes as well as decor and accessories of all types. Yellow is cheery and fun and can even be considered sophisticated in certain softer shades, like below.
Black Millwork
Black is a major home design trend. Its popularity on house exteriors and kitchen cabinets can't be overestimated. Black is a bold statement for a wall color and can intimidate all but the most intrepid. Used in smaller doses it's easier to consider. It's graphic and bold and edgy. We're seeing more and more black in case goods and on wall millwork.
Ceramic Tiles
I had to include this again because the trend is so strong. There are more and more sources for these beautiful, often colorful, always graphic, ancient tiles. Companies like Popham Design and Claesson Koivisto Rune are leading the pack with innovative patterns which harken back to the past while adding the warmth of a handcrafted object.
Blue Velvet Sofas
Yes, luxe is here and juxtaposing the luxurious with the rough hewn, handmade or rustic is a hallmark of interior design today. Velvet is back and blue velvet sofas seem to be making a splash.
Ceramic Lights
Another nod towards the handcrafted. Pendant lights have been hot since the island was ushered into our kitchen design lexicon. We're seeing more and more lights which have the artisanal, hand made feel. Due to their opaque nature the clay is often punctured to create a peek a boo effect.
The Trough Utility Sink
Remember these? You might have seen one in a basement, in a 1940s home or maybe as a slop sink at a work station. They're finding themselves, often painted black on the underside, in more genteel, modern environments. It's that mix of utilitarian and designed which make them so interesting to use.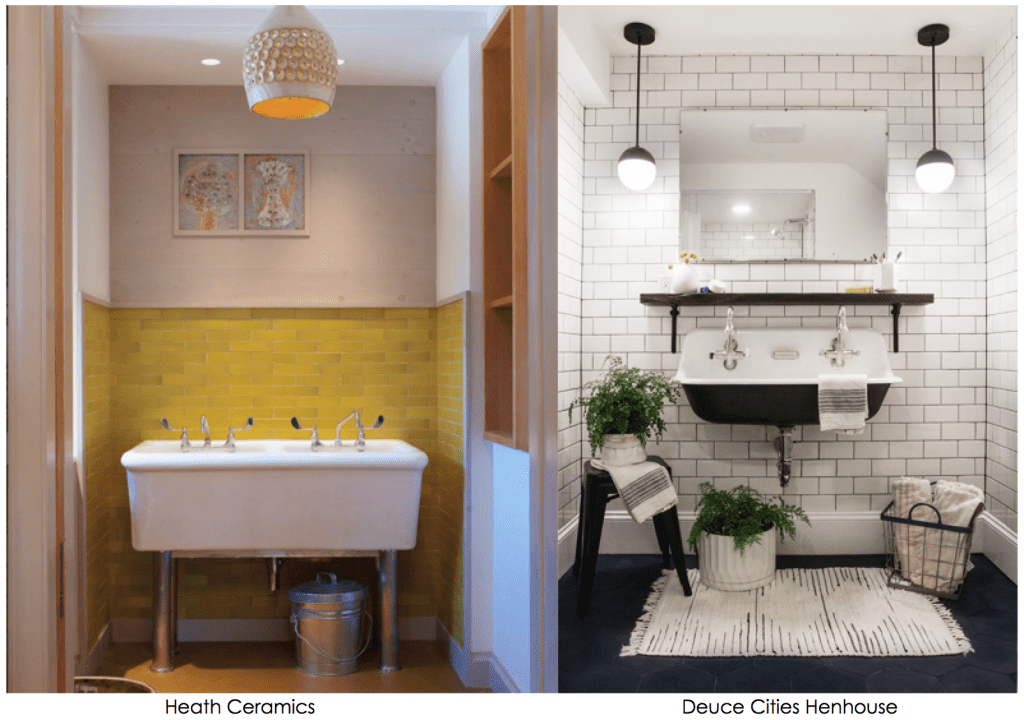 Creative Tiling
Think the only way to tile is to use one pattern, one color, one size of tile and cover an expanse creating 4 plumb corners? Uh uh. Tiles are being creatively combined with other tiles and materials like wood, plaster and cement to create truly unique surfaces.   There you have it. Where home design is heading in 2018. Let's meet again in December 2018 and see if these burgeoning trends came into fruition full force. See you in 2018.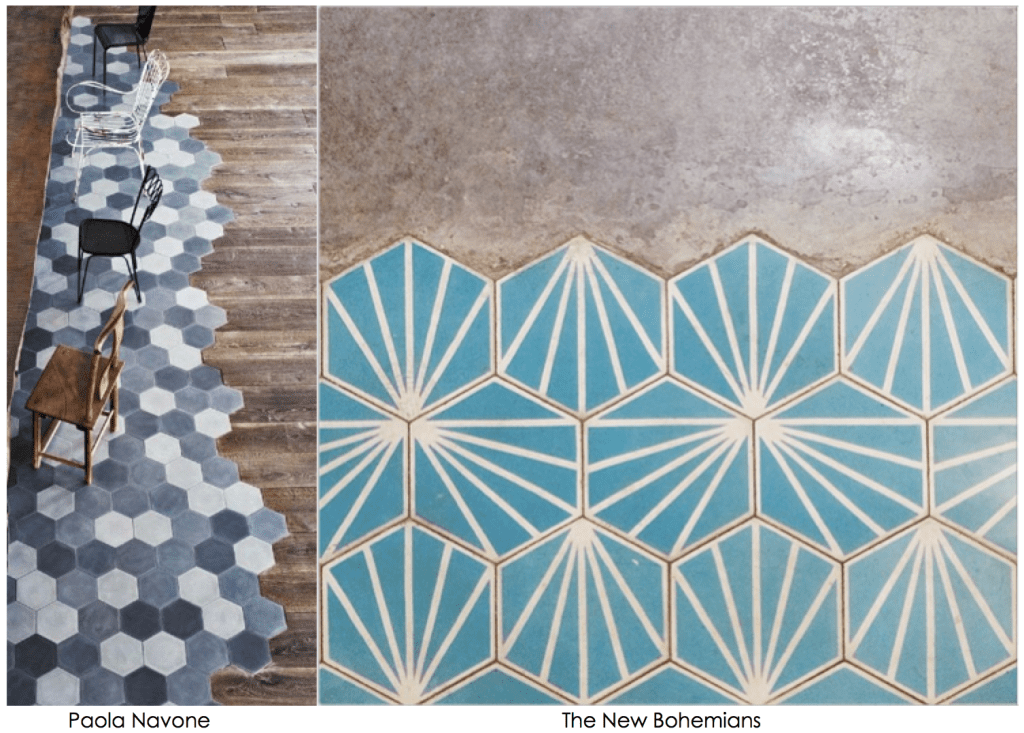 This post was originally published on Amy Krane Color, and is reposted here with permission. Learn more about Amy Krane Color and their color consulting services.