Go Green or Go Home: Your St. Paddy's Day Pied-a-Terre
The Big Apple is honoring the year's most Éirific holiday with its usual parade (now over 250+ years old) on March 17th, but there is no reason your St. Patty's Day celebrating should be limited to one day. Heck, with parades and events scheduled all along the Hudson this weekend, there is no reason the festivities should be geographically limited either. We say go big as you go bragh this weekend – try the green items on the menu (yes, the beer too), find a redhead for a consensual kiss, and tap into that latent appreciation for bagpipe music that you have saved for just this occasion. And when you're done, crash at one of these inviting spaces for a restorative and well-deserved sleep:
---
1) Kingston Waterfront Apartment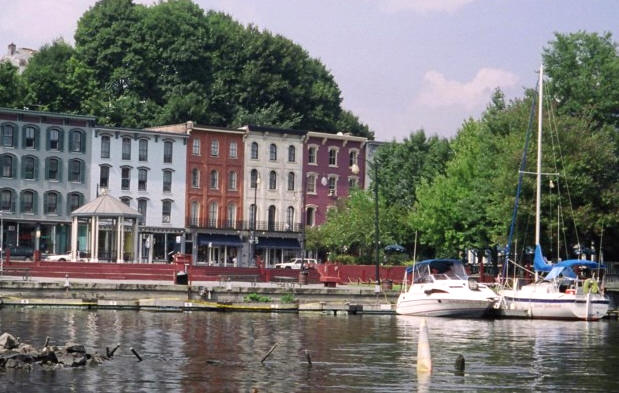 Price/night: $159
Accommodations: Private apartment, 1 bedroom
Max guests: 2
Min stay: 2 nights
House description:
Kingston's annual Shamrock Run, now in its 27th year, culminates in a post-race party down at the strand, which is exactly where BC's recently renovated apartment is located. So "Great Location" is checked off on our list, and just from the small handful of photos included on the rental's profile, we are quite positive that we have "Stunning Interior" covered. Here's where the input of previous guests comes in handy, as the bed, apparently, is AWESOME (see below), and while we would love the opportunity to provide you with our expert opinion and take our next catnap at this delightful Ulster County pied-a-terre, the minimum stay is two nights, not fifteen minutes.
Sample reviews:
"BC and Larry are terrific hosts and their pied-a-terre in Kingston is, quite simply, awesome. It was absolutely spotlessly clean, and the kitchen and bath are both almost brand-new and really nice. The decor is lovely and THE BED. THE BED IS AWESOME. The bed is so comfy I almost didn't want to leave it! Lots of nice extra touches like really especially cushy towels (and lots of them), nice toiletries, coffee and tea stocked, lots of ice in the freezer, local reading materials. There's a nice big tv with cable, and the living room is really comfy.
I forgot an article of clothing and they contacted me and offered to send it before I'd even noticed I'd forgotten it!
The 'hood is charming–a really nice selection of restaurants in walking distance. Parking is easy.
The Hudson Valley is lovely and the Rondout Inn was the perfect base camp for exploring. I can't wait to go back and I hope to stay at the Rondout Inn again!"
"B.C. Gee & her partner Larry were wonderful hosts. They have a gorgeous B&B in Kingston, just minutes walk from the historic waterfront. We loved our room – but really, it's more like a full-scale apartment. Complete with a working kitchen, extremely comfortable queen size bed, and a cozy yet specious living room, which also has a queen size futon bed, their place is a real gem. Less than 5 minutes walk from several restaurants, bars, and a really cute coffee shop, with street parking right outside, we would definitely recommend their place to anyone visiting Kingston. They also own a really kool thrift store (their B&B is above it). Upon our arrival, B.C. & Larry greeted us and showed us around their own artist workspace, and opened a nice bottle of wine to welcome us. They told us a bit about their place, and Kingston in general, giving us some great inside info on things to do and places to see in the area. THANKS GUYS – see you on our weekend trip to Kingston."
---
2) Chic Contemporary in Yonkers
Price/night: $112
Accommodations: Full house, 1 bedroom
Max guests: 2
Min stay: 2 nights
House description:
This contemporary gem is just a titch west of Eastchester, where weekenders will be treated to ten pipe bands, five Irish dancing troupes, four brass marching bands, three Irish music bands, two turtles doves, and a partridge – wait a minute – scratch those last two, wrong holiday. To summarize, the Eastchester St. Patrick's Day parade is guaranteed to get those feelings of Irish pride stirring, regardless of whether you are, actually, Irish. And when the reveling at is over at Piper's Kilt and Mickey's Spillanes, we can't think of a better place to stay than Tyrone's stylish one-bedroom abode. The bed looks incredibly comfy, for starters, and the blend of mediterranean décor set against a neutral color palette is enchanting.
Sample reviews:
"Tyrone was an awesome host for me and my daughter during a college visit. After a hotel check-in turned sour, we were able to secure Tyrone's lovely home in such a short notice – he even offered to take off work early and pick us up!
The space is immaculate, fresh, and inviting on a fairly quiet street 5min to the train station and interstates. Tyrone was a perfect gentlemen; we hardly ever saw him, except when offering to drive us to the train station.
If you're looking for a safe, clean, contemporary space with a gracious host who pays attention to the details, look no further…. A 5-star experience :)."
"Tyrone is a superb host. He makes you feel immediately at home. The accommodation is spotless, comfortable and the ambience is very tranquil.
It is also useful to know, that 250 yards away across the nearby Convent Park and on Lake Ave, there is a selection of shops for provisions."
---
3) Country Apartment (+ Sauna!) in Tarrytown
Price/night: $135
Accommodations: Full apartment, 1 bedroom
Max guests: 2
Min stay: 2 nights
House description:
Sure, St. Patty's Day parades may be a dime a dozen in the lohud area, but the Sleepy Hollow/Tarrytown procession skirts right along the Hudson, making for a majestic scene as rows of kilts, bagpipes, and small children decked in green garb march against the backdrop of the rolling hills and still-frozen water. Of course, you'll want to be bundled up for the festivities – judging by the forecast, Mother Nature is still deciding whether the Northeast should move forward into spring or just skip directly to summer on June 1 – and if you're staying at Anthony's cozy apartment, you'll have to resist the urge to brag to fellow onlookers about the in-house sauna you will be returning to for a post-parade pampering session.