The center of Betty Choi and Craig Leonard's 18th-century Colonial may be the hallway leading to library and living room, or the staircase leading up to bedroom and bath, but its heart is clearly the kitchen. One part laboratory, one part classroom, all parts family refuge and sanctuary, the 500-square foot space is anchored by a marble island and fueled by a walk-in pantry brimming with color and flavor. The space is also part prototype. Along with Choi's sister, Doris Choi- chef and author of The Fresh Energy Cookbook, and her brother-in-law Niall Grant, the couple will open their restaurant Silvia in another historic Woodstock building, the former site of nightclub Joyous Lake, this summer.
Choi and Leonard didn't set out to live in a piece of Woodstock history, let alone open a restaurant in another. Leonard, a London native, came to the US during college when he began working in the fashion industry. Now partnered with a major international denim brand, focusing on their retail stores, he and Choi met when they worked together in his office. Together with daughter Maia, they soon began spending summers upstate. Their love of the Hudson Valley, and their passion for revitalizing both bodies and buildings has led them on a path that is classically Woodstock.
Take Old Bones
"It was the house that brought us to Woodstock," Choi explains. It was their second summer in Dutchess County and they'd decided to buy a home. Originally focused on Rhinebeck, their real estate agent found the property in Woodstock that she thought might be a potential match. They were skeptical—it was too far from the Amtrak line, and, at 2,200 square feet, more space than they needed for just summers and weekends. However, they agreed to visit and were instantly smitten.
Nestled on a wooded slope of the Catskills, its five acres are protected physically by Mount Guardian and acoustically by a flowing branch of the Saw Kill. It was clear the four-bedroom, two-and-a-half-bath house "had some old bones," recalls Leonard, but neither quite believed the agent's claim that the home reached back two centuries. "We thought it was just a sales pitch," he says, "but it did feel like an old house." It also felt like home. "We made every excuse we could," Leonard says, "but we'd fallen in love."
In 2007, they bought the property and, after some research, realized the agent hadn't exaggerated: It was one of the oldest in Woodstock. Built in 1775, it was likely a farm in its early years and in 1815 was purchased by the owner of the Shady Glass Factory which once straddled the nearby stream. Over the years many generations had come and gone, watching the same sun set over the Catskills, and calling the place home.
Let the Ingredients Do the Work
It became a weekend haven they soon wanted to remain in all week. "I hated that drive back on Sundays, it was brutal," recalls Leonard. "It didn't take us long to realize that we didn't want to leave." In 2008, Leonard and Choi's son James was born in Manhattan. After he was diagnosed with cystic fibrosis, the potential of a healthier life in the country, "with its fresh air and slower pace of life" appealed even more. They'd also grown to love the surrounding community as much as they loved the house. "We knew it would be a better environment for our whole family," says Leonard.
In 2009 they all relocated upstate full-time, Leonard began to commute to Manhattan and Choi took charge of family life. Living day to day in the old house gave her a new appreciation for its pedigree. She loved the slow march of the seasons through the landscape and found comfort in the home's history. "It was grounding," she explains, "knowing that so many generations of families had lived here."
The wholesome backdrop inspired Choi to think about other ways she could ensure her family's health. Food had always been an integral part of Choi's life—she grew up in a large household in Brooklyn and Manhattan with a mother that cooked every family meal. She'd even been part of a family catering business for a while. She realized that food was a vital ingredient of a healthy life—one she could control.
She cut out processed foods and anything grown with pesticides or hormones. Next, she ensured everyone was well fed. Choi knew that, not only could food be "nourishing and healing," it could also be made irresistible. She experimented with recipes, spices and flavors. She spent hours in the family kitchen. However, the-not-so-secret ingredient to her family's (and everyone's) well-being always came down this: Take fresh, organic produce and clean, high-quality proteins, then "don't mask them, let them shine."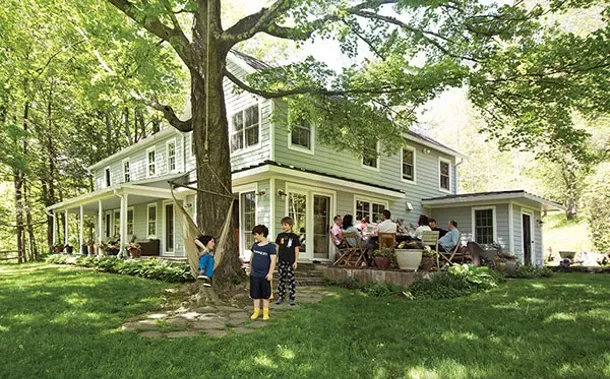 Use Kitchen Sense
The Choi-Leonard household also thrived. Choi's sister Doris loved Woodstock enough to move with her family to the area in 2014. Their mother followed last year and both live nearby. This meant more chefs to stir the pot but required more seats at the table. The family began to think the boxy, old fashioned kitchen wasn't conducive to their needs. "We were all stuck in this little kitchen and started thinking about moving," remembers Leonard. However, they didn't want to leave the house, that by this time, had become like an old friend. It was time to remodel.
First, they gutted the kitchen. By enclosing a covered porch at one end and bumping out a wall at the other, they expanded the space to include a pantry and dining area. Choi found a reproduction of a traditional farmhouse sink with double drainboards and designed counter space, cabinetry and appliances around it. A wall dividing the kitchen from the former dining room was removed, and the area was made into a den, now filled with Legos and seating. They added a mudroom and half bath next to the pantry. A wooden dining table with seating for 10 looks westward through French doors, offering a view delicious enough to match the meals.
Upstairs, the space that once topped the porch was transformed into a family bathroom with clawfoot tub and large linen closet. They expanded the space above the pantry into the attic, creating an arched bedroom for their daughter. An additional bathroom was added, and the three original bedrooms complete the upstairs.
Timeless Venue, Fresh Menu
Recently, the couple has taken their knowledge of food, along with their impulse to renew, and channeled them both into Silvia. The restaurant "reflects their collective vision of connecting food and people with back to basic cooking that is honest, sustainable, and inspiring," says head chef Doris Choi.
Again, Betty Choi and Leonard didn't set out to start a restaurant but the neglected building in the center of town called to them much the same way their home had. Once the site of Ron Merians' nightclub The Joyous Lake, the building had been at the heart of the Woodstock music scene during the late 60s and 70s with a long list of folk, jazz, and rock musicians playing there, from Charles Mingus to the Rolling Stones. (Barney Hoskyns's recently published musical history of Woodstock, Small Town Talk, describes how the Joyous Lake actually began as a macrobiotic cafe and juice bar and continued to serve food throughout its musical heyday with Merians' wife Valma as chef. According to Hoskyns, Mingus was a fan of the oatmeal. )
"We drove by it for a year and saw the for-sale sign," recalls Leonard. "The idea kept flourishing: What if we bought the place and did something with it?" The couple couldn't bear to see such an iconic piece of Woodstock history languish, so they bought it. The partnership with Doris Choi, a pioneer in the raw and plant based health food movement, and her husband Grant, also an industry veteran, was the natural next step. The restaurant will have "an open kitchen with a wood fired grill and vegetable-centric pantry" and a menu reflecting all four owners' "commitment to locally sourced ingredients, sustainable farming and humane practices towards animals." While patrons old and new will return, and the menu may change with the seasons, the basic recipe they've mastered—blending the fresh with the timeless—will endure.