Upstate Jane: Ellenville Classic A-Frame on 1.34 acres, $129,500
Dichotomy Interiors | November 29, 2011
Megan Oldenburger, aka Upstate Jane, is the owner of Dichotomy Interiors, an Interior Design and Style firm based in Woodstock, NY. She writes for Upstater about design, home furnishings, real estate and culture.
Ellenville, NY (Ulster County)
Less than 2 hours from the Big Apple, is this adorable A-Frame, with 2b/2b on almost an acre and a half.  Think of all the possibilities! It is cute on it's own, but could be amazing. Check the bottom of the post for pics of a well renovated A-Frame.
For full listing please click here
At our place in Woodstock, our nearest neighbor, who is about 65, owns an A-Frame. As we have gotten to know him, we have learned that it was his adult dream to own and live in an A-Frame house in the mountains, which he now does. Initially we thought, huh…what an interesting and particular dream (the A-Frame part). Until the last few years I had always disliked the architecture of the A-Frame. I didn't like the massive amount of shingled roofline that was showing, and the lack of usable wallspace for art. I didn't know that they were actually a coveted piece of architecture for some- and enough to make a grown man yearn for and save pennies to own one day.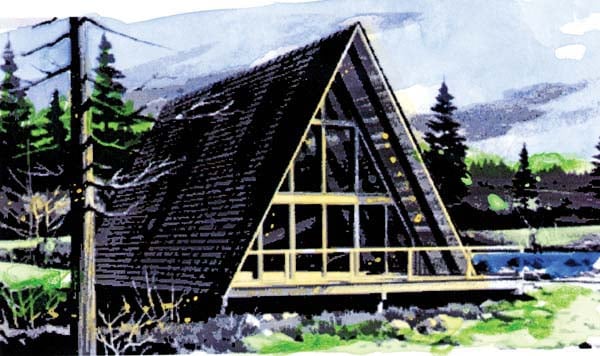 Since then, I have grown fonder of the A-Frame. Anyone who has been in Ulster County, especially near Hunter, Phoenicia, and Shandaken etc. has seen them. They pop up randomly and sometimes a particular stretch will have 3 or 4 in a row. Historically, the shape of an A-Frame in building has a long past, but it wasn't until Post-World War II that it became more popular here in the United States thanks to Architect Andrew Geller.  He turned the old idea of the A-frame into a new fashion in 1955 when he built an A-frame house on the beach in Long Island, New York;  known as the Reese House. Named for the distinctive shape of its roofline, Geller's design won international attention when it was featured in The New York Times on May 5, 1957. Before long, thousands of A-frame homes were being built around the world.
an illustration from Poltach Designs in the 60's via grain edit's flickr page.
The most obvious reason we see so many A-Frames in Ulster County is due to the fact that it has long been a vacation mecca for city dwellers, and after the war, many Americans found themselves with disposable incomes. The inexpensive build of the A-Frame became a popular standard for second homes. Another reason claimed for popularity is the adaptability of the architecture.
See, even Barbie got in on the A-Frame action in the 70's…check out that freestanding fireplace in the background. Looks like fun girls!
Ranger A Frame Cabin designed by Nagle and Associates via Grain Edit from the publication Second Homes for Leisure Living
 Double Deck A Frame Cabin designed by David T Hellyer, Tacoma Washingtonvia Grain Edit from the publication Second Homes for Leisure Living
I saw this post on Apartment Therapy's small cool 2011 contest, featuring a woman named Julia and her pretty killer A-Frame which sealed the deal for me, I think they truly are great vacation homes or rentals. Check out some of these photos and her entry in the link above!