The Warwick Valley area may be one of the most perfectly realized blends of urban and rural cultural wealth in the entire Hudson Valley, if not the world. That's a strong statement, but just look what goes on around here. Want music? Start with the summertime concert series on the Railroad Green in Warwick; July alone features the Jennys, Free Shrimp Band, Uncle Shoehorn, Nailed Shutt, E'lissa Jones, and the Petty Young Dylans. Or the concert series on the beach at Greenwood Lake's Thomas P. Morahan Waterfront Park, which also brings film and live theater to the water's edge (not to mention Zumba and yoga on weekend mornings.)
Want more music? There's live music every weekend at the Warwick Valley Winery, where you can sample fine local wines, ciders, and harder stuff. There's live music every weekend at Pennings Farm, with an ice cream stand and beer garden handy. And what began as the Warwick Jazz Festival has quite naturally evolved into the Hudson Valley Jazz Festival, a world-class event happening August 17 to 20.
To understand the Warwick Valley's immense fecundity, start with the black dirt. An ancient glacial lake lived here and left behind the largest stretch of rich, fertile mud-bottom on the North American continent outside of the Everglades. The first few Europeans didn't know quite what to do with the bogland; even livestock pastured there was apt to drown when things got wet.
In the mid-19th century, some folks from the Eastern European lowlands around Germany and Poland who'd had experience with this kind of topography back home showed up. They knew what to do with a big sea of compost, and the onetime "Drowned Lands of the Wallkill" stepped into a new starring role in the area's agriculture. The land wasn't, and still isn't, suitable for development—meaning that around 26,000 acres a scant 50 miles from Manhattan Island would remain open, lush farmland, surrounded by mountains. Onions grown here have been ravedup in the New York Times Dining section as "unquestionably superior for cooking."
The higher ground within the valley, meanwhile, is home to some of the finest human community to be found anywhere, smart and compassionate and wildly creative. Online, Warwick Valley's denizens meet and mingle at Warwick Valley CommonPlace, a community maintained by the Albert Wisner Public Library where nearly 700 active members post classifieds, announcements, and discussion items in a range of topical forums. On the ground, they volunteer to check in on the elderly and homebound as Friendly Visitors and gather at Wickham Works, a nonprofit makers space that incorporates a materials exchange, a learning center with workshops on everything from tech to arts to farming, and studio space for members. They organize stuff like the Farm to Fork Fondo, which brought together over 500 cyclists last month for a party on wheels on the black dirt, and the Black Dirt Feast at Scheuermann Farms, which raises money for food pantries and scholarships—the ninth annual edition this August is already sold out.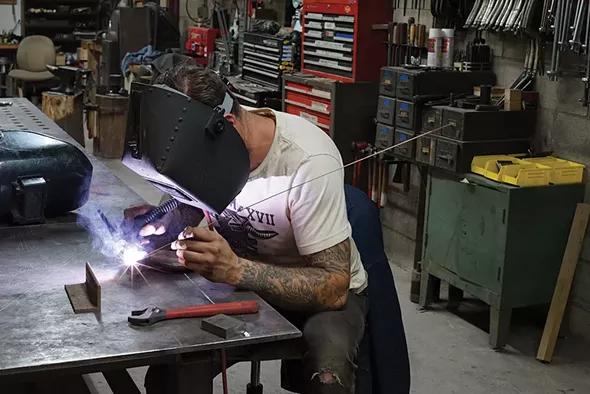 All that activity makes folks powerfully hungry and thirsty, so it's a fine thing that they live surrounded by such amazing farmland. The bounty gets brought together at the Warwick Valley Farmers' Market downtown each Sunday, where you'll find not just produce but a vast array of artisanal delights served with side dishes of top-notch entertainments and activities. It inspires the menus at local restaurants like the 239-year-old Landmark Inn as well as thematic celebrations like Applefest, one of the Hudson Valley's premier celebrations and Orange County's largest, and Pine Island's annual Onion Festival and Onion Eating Contest, featuring the musical accompaniment of Grammy-winning polka king Jimmy Sturr. (This month in Pine Island, the Drowned Lands Historical Society is sponsoring their Annual Indian Artifact Hunt on the evening of August 20.) And on any Sunday afternoon, you can tour the seventh-generation dairy farm at Bellvale Farms Creamery and finish the experience with a truly superb helping of handcrafted small-batch ice cream. On any hungry evening, people in Warwick can choose from Thai, fine Italian and Mexican, new and classic American, or simply slammin' pub fare or mouthwatering pizza. On the beverage front, as well, the Warwick Valley is a fountain of diverse pleasures; you'll find brew houses, vineyards, wineries, cideries, and distilleries.
As you'd expect, creative passion runs hot and diverse in local retail as well; a shopping day in the Warwick Valley is a treasure hunting opportunity not to be missed. Check out the array of home furnishings, accessories, and gifts at Frazzleberries, and marvel at the fact that the lush array started with the dreams of a talented local folk artist. Or visit Newhard's for more fine home goods and a carefully curated array of toys, jewelry, stationery, and gourmet foods. Ye Olde Warwick Book Shoppe, with its Victorian-inspired brass fixtures and dark wood, has become a community cultural center. And there's much, much more to discover when you get there: fashion and antiques and art created and marketed by and for folks who could easily swim in the vast sea an hour to the south but choose instead to offer their wares in the Warwick Valley. Balance your Warwick shopping day with your choice of piano music and wine or beer and billiards, or just chill at one of the town's fine selection of parks. It's all right here.
Speaking of art, it's as plentiful as the fine food and beverages. You'll find sleek contemporary shows at Playa, "lovingly rethought" vintage farm equipment at Agrisculpture, and beyond-hip, locally grown creations at Love Life Gallery, to name just the tip of a much bigger iceberg. Then there's Sugar Loaf, an entire village devoted to fine art and crafts, where a couple of dozen makers throw their doors open Wednesday through Sunday each week with a dazzling array of everything from herbs and soaps to fine designer jewelry, pottery, and woodcarving. Sugar Loaf has stuff you just can't find: Merrily Paper, where the boutique offerings include Kat's original line of greeting cards and prints ("Carpe the hell out of that diem") alongside every sort of paper good, eclectic day and evening wear at My Sister's Closet, and all manner of treats for the metaphysically minded at Practical Magick.
Milkweed, down Romer's Alley, is a "locus of opportunity for the curious of all ages to explore ideas particular, peculiar, and profound"; last month, they were teaching people to make soul collages. In fact, the Warwick Valley is packed with wildly original opportunities to get your own art game on and kick it up a notch. Workshops abound, uncommon ones like repousse and blacksmithing at the Center for Metal Arts and customizable sip-n-paint good times at Wine and Design.
Need more reasons to visit the Warwick Valley? How about the chance to check out current popular movies at an old-school cash-only drive in theater? The opportunity to snuggle up close with exquisite alpacas, then see (and feel) the original creations woven and knitted from their soft wool at Shalimar? A boating expedition starting at one of the half-dozen marinas on Greenwood Lake, Orange County's largest body of water, where they've had two centuries of experience welcoming visitors?
That black dirt has turned out to be fertile soil for a lot more than just onions. With three villages and eight hamlets to explore, you could weekend in Warwick all summer long and not run out of new things to try.
This article was originally published in the July 2017 issue of Chronogram, and is reposted here with permission.