Weekend Events in the Catskills: Mountain writers, peaches, and chamber music
The Arts Converge – Mutual Muses in the Catskills at the Catskill Interpretive Center 
Poet and soprano Sharon Israel will be in conversation and performance with composer Robert Cucinotta this Saturday, August 12 at 1 pm at the Catskill Interpretive Center as part The Arts Converge – Mutual Muses in the Catskills, an event hosted by Writers in the Mountains. Israel's debut chapbook Voice Lesson was published by Post Traumatic Press earlier this year, and her work has appeared in Per Contra, SPANK the CARP, 5:2 Crime Poetry Weekly, Medical Literary Messenger, and Spry Literary Journal. Cucinotta gained recognition early in his career for his percussion and electronic music performed at the Smithsonian, Merkin Hall, Bargemusic, and on recitals in the U.S., Ireland and Australia. His MASQUE: The Tempest was premiered at the 2015 Phoenicia International Festival of the Voice by mezzo-soprano Maria Todaro, bass Bradley Smoak and pianist Doug Martin.
"STILL LOOKING, and ALL OVER THE MAP II" works by artists Helene Manzo and Frank Manzo at Longyear Gallery  
Longyear Gallery in Margaretville is hosting "STILL LOOKING and ALL OVER THE MAP II" featuring works by painter Helene Manzo, and photographer Frank Manzo. "Still Looking" includes a series of recent paintings and monotypes by Helene, reflective of the artist's deep fascination with color and light. "All Over the Map" features recent photographs by Frank, including East Coast photographs of New York City urban environments, West Coast images filtered by diffused light, as well as images taken in the Catskills. The opening reception takes place this Saturday, August 12 at 3 pm. The show will remain on view through September 2.
The Chamber Music Society of Lincoln Center at SPAC
Saratoga Performing Arts Center (SPAC), one of the most popular venues in the country, is hosting The Chamber Music Society of Lincoln Center at SPAC this Sunday, August 13 at 3 pm with a concert called In the Spirit of Beethoven. The program includes Beethoven's Sonata in E-flat major for Violin and Piano, Op. 12, No. 3, and Septet in E-flat major for Winds and Strings, Op. 20 as well as compositions by Shostakovich and Frederic Rzewski, whose works had been influenced by the great Romantic composer. Rzewski is a contemporary American composer and pianist known for Four North American Ballads. Performers include Gilles Vonsattel, piano; Wu Han, piano; Paul Huang, violin; Arnaud Sussmann, violin; Richard O'neill, viola; Nicholas Canellakis, cello; David Finckel, cello; and Joseph Conyers, double bass.
From Chronogram.com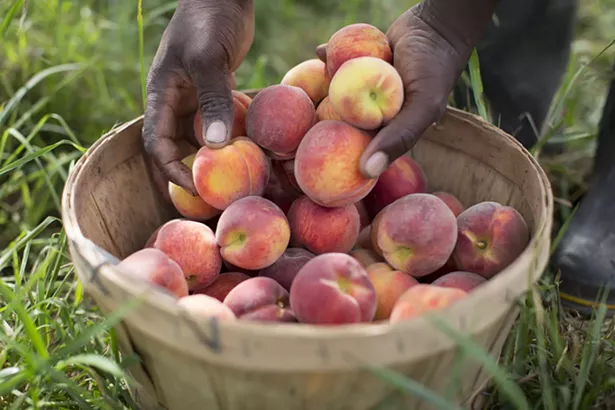 It's the height of the summer harvest, and Fishkill Farms, an apple orchard and diversified fruit and vegetable farm in the town of East Fishkill, is celebrating with their annual peach harvest festival, Peachtopia, on Saturday, August 12th. With a bounty of pick-your-own juicy peaches and nectarines, a full menu of farm-fresh food and beverages, and live music, Peachtopia is the perfect way to experience the sweetness of peach season.
Fishkill Farms is a historic apple orchard that has been in the Morgenthau family for nearly a hundred years. Forty acres of apples, peaches, nectarines, black currants, cherries, and pumpkins are available in season for pick-your-own. Committed to supporting the land so it will nurture people for generations to come, their vegetables are grown without synthetic pesticides or fertilizers, and they use "IPM" or Integrated Pest Management to help minimize chemical inputs in their orchard. At Fiskkill Farms, there are berry patches, greenhouses, pasture-raised hens, and a farm store, which is open 9a-6p, seven days a week.
For Fishkill Farms' Peachtopia this year, they're channeling New Orleans vibes. The Tin Pan band will play a mix of rough and tumble jazz and blues from 12p-4p, and fiddler, Ian Moore, will be skipping through the orchard to entertain the little ones from 10a-2p. They'll be putting on an old-fashioned crawdad boil served with andouille sausage, lemon, and butter, with peachy summer desserts like cobbler and melba. Pair it with local beer, wine, and cider at the Treasury Cider Garden, open 12p-6p, where they'll be crafting a Sparkling White Peach & Cider Bellini, and pouring Treasury Hard Ciders and Millbrook wines, with Newburgh Brewing Company's Cream Ale on tap.
Don't miss the wagon rides, running all day to and from the peach trees, and outdoor kids' activities on the hillside!
Fishkill Farms' annual summer harvest festival, Peachtopia, at 9 Fishkill Farm Road in Hopewell Junction: Saturday, August 12th, 10a-4p; $5 per person, kids ages 12 and under, CSA Members, and Farm Members are free. Learn more at their Facebook event. Raindate is Sunday, August 13th.
Also on August 12th at Fiskkill Farms is a farm-to-table dinner, where they're partnering with John Lekic of Le Express and his Farmers and Chefs food truck for a four-course meal, crafted to showcase the finest produce the Hudson Valley has to offer, including Fishkill Farms' own organic vegetables and sustainably grown fruit. It's after Peachtopia, running from 5:30-9p. Purchase tickets here and get admission to Peachtopia included.
–Hillary Harvey